Whilst planning a trip to the UK, I turned on satellite view to find myself a nice green village in the midlands for an overnight - and spotted the remains of a hill fort or stone age earthworks in a field. Nice!
I poked around and found this cool site, GoogleSightSeeing.com, tagline "Why bother seeing the world for real?" They have some nice references, although I find it slightly frustrating that they don't let you load the coordinates into Google Maps yourself from their site - maybe this is a Google Maps API UI issue, though?
Here's the White Horse of Uffington (about it here), a chalk horse on the hill near Uffington, not far from Oxford:
Another chalk figure is at the Long Man of Wilmington, and in Mexico there is a surprisingly similar Juarez White Horse (I wonder if that one is a hoax).
The Alton Barnes one is from the 1800's and is kept in good modern horse condition:
There are some fun crop circles, like the one near Doncaster (hey, I'll be quite close to this next month...):
And here are more crop circles near the M1.
Stone circles don't all turn out so well... I'm disappointed that Avebury is hard to make out, and the Callanish stones in Lewis aren't very visible. Stonehenge is acceptable:
Another circle in the Lake District is only visible as a ring on earth, at GoogleEarthHacks. I also enjoyed on that site the link to Peru's 13 Stone Towers, an observatory structure - but the massive earthwork remains to the upper left of it are much more impressive to inspect by air.
Ireland's passage graves are very visible, too. Here's Knowth, part of the amazing Boyne Valley collection of sites (where Newgrange is, with other stone age mysteries that are really worth a visit):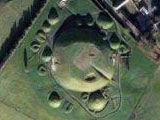 Not just for aerial tourism, of course - I was reminded of the folks who've used Google Earth/Maps to find new archaeological remains. A couple years ago, a computer programmer made some important Roman discoveries. Archaelogists are using Google Earth fairly regularly, and some recent Afghanistan sites are due to Google Earth usage by a Ph.D. student.